CATEGORIES
LATEST NEWS
CONTACT US
ADD: 72 Jingjiang (S) Road Linhai City, Zhejiang Province, China.
TEL: 86-576-85135005
FAX: 86-576-85135009
E-mail: flag@chinaflag.com
Custom Garden Flags
Your position: Home > Custom Garden Flags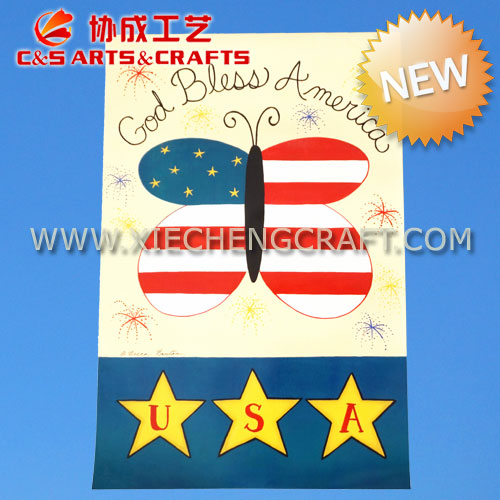 PP Synthetic Paper Garden Flag
Min Order: 100PCS
Delivery: 15~30 day
Port: Shanghai or Ningbo China
Terms: L/C, T/T, Western Union
Product description: PP Synthetic Paper Garden Flag, We recommend this product for printing Garden flag,Welcome customize design, Contact us Now!
PRODUCT INTRODUCTION
Description:
Traditional advertising and promotional flags are made of cloth materials that are screen printed. However, since printing on both sides is unavailable, the picture printed on one side appears backwards. Furthermore, people often criticize traditional ad flags due to the rather long time spent on printing processing and fabrication and that the flag cannot fly freely, among other complaints. On the contrary, the opaqueness and stiffness of pearl paper and synthetic paper are sufficient to address people's concerns; meanwhile, they can also adopt double-sided lithography to achieve exquisite printing effects with different patterns printed on different sides and with fine waterproof and fluttering characteristics. It is definitely the best material choice for advertising and promotional flags.


We recommend this product for printing Garden flag

Advantage:
1. It has greater printing brightness and a better resolution ratio and is very easy to print with exquisite results.
2. It has appropriate stiffness.
3. It is waterproof, durable, and hard to tear.
4. It is suitable for outdoor use.
Size:
(large) Size: 25"~28"x37"~40" normal size: 27"x39"
(Small) Size: 11"~13"x16"~18" normal size: 12"x18"
Flag Material:
PP Synthetic Paper.
Printing:
Single or Double sides Printing.
Packing:
One piece in one poly bag. 100pcs per carton.
We can customize what you need high quality flags, Contact us Now